About the restaurant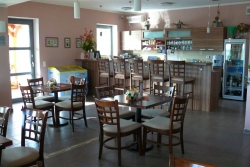 A pleasant restaurant with an outdoor terrace is a part of the lodging house.
The capacity of the restaurantis 121 seats - 37 indoor and 84 on the outdoor terrace.
We offer organization of family events, weddings, company training sessions and parties, sports events, parties for children, seasonal events etc.
POSTCARDS OF THE KISBERI HALFBLOOD
The Czech Kisberi Breeder Association has issued a limited edition of picture-postcards of Kisberi halfblood.
Edition of 10 picture postcards –priced CZK80+ postal charge.
The picture postcards can also be purchasedindividually - 1 pc for CZK8+ postal charge.
Postcards No 1, 2, 5, 6 issued also as self-adhesive. 1 pc for CZK8+ postal charge.
WATCHING OF SPORTS MATCHES
We offer an option to watch sports matches in our restaurant in HD quality – the following channels:

ČT Sport, ČT4, NOVA Sport, Slovak Sport, Sport 1, Sport 2, Sport 5, Eurosport, Eurosport 2, Extreme Sports, Auto Moto Sport and Golf Channel.

Podle zákona o evidenci tržeb je prodávající povinen vystavit kupujícímu účtenku. Zároveň je povinen zaevidovat přijatou tržbu u správce daně online; v případě technického výpadku pak nejpozději do 48 hodin.